November 26, 2013 – We are pleased to announce that The Belden Brick Company has been awarded the HNA Hardscape Project Award for the Smothers Park and Riverfront Crossing projects in Owensboro, KY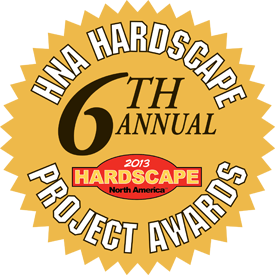 The Hardscape North America - HNA Hardscape Project Awards recognize outstanding hardscape projects by contractors building residential walkways, patios, driveways, commercial plazas, parking lots, and streets.
In its sixth year, the awards program received 115 entries. Twenty winners received recognition at an awards breakfast ceremony on Friday, October 26th, at the Hyatt Regency, Louisville, KY. Entries are judged on project intent, design, quality of construction and craftsmanship, compatibility with related construction materials and systems, construction innovation, detailing, and overall design excellence.
HNA Hardscape Project Awards "On behalf of the entire team at HNA, I would like to congratulate The Belden Brick Company on winning an HNA Hardscape Project award for 2013," said Charles McGrath, ICPI Executive Director. "There were some excellent projects nominated in this category, and the fact that The Belden Brick Company was chosen shows that they truly recognize the importance of quality construction and craftsmanship." The HNA Hardscape Project Awards are produced by the Interlocking Concrete Pavement Institute and supported by the National Concrete Masonry Association and the Brick Industry Association. This year, Belgard and Ewing Hardscapes sponsored the program.
"It's an honor to receive this prestigious award which further endorses The Belden Brick Company's dedication to customer satisfaction and quality brick," said Marketing Director Brian Belden. "I am very proud of everything we have achieved at The Belden Brick Company, and receiving this recognition from the segmental concrete pavement industry is a very significant indication of our dedication to providing construction innovation and excellence to our customers."
The Belden Brick Company is the sixth largest (by production volume) manufacturer in the US brick industry and the largest family-owned and managed brick company in the United States.